Style Meets Sustainability
We believe that we can all come together to change the health of our oceans through everyday apparel choices created with comfortable fabrics that repurpose recycled bottles. Every StepChange purchase helps fund non-profits doing incredible work to restore our Oceans.  Feel the Comfort, Be the Change.
Help save a National Treasure
The world premiere of 100 Yards of Hope, a documentary about the unique Super Bowl restoration of a football field-sized coral reef, will debut during NFL Draft week in Cleveland, the host city of this year's Draft. The film features the work of FORCE BLUE, a team of retired Special Operations military divers dedicated to saving America's only barrier coral reef. The Greater Cleveland Aquarium will host the world premiere through May 2, 2021.
Watch for free on the Greater Cleveland Aquarium's 100 Yards of Hope webpage.
StepChange is proud to be on the team and a partner in this effort.  A portion of all FORCE BLUE logo purchases goes directly to FORCE BLUE to fund these efforts.  Please help by wearing your support. 
100 yards of hope collection
New Artist Collection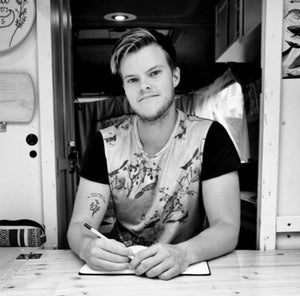 STYNGVI
Shop Now

Growing up in a coastal town in Iceland has been a big part of my artistic journey. I have so much love and appreciation for the ocean and life underwater which has led to the main focus in my art, portraying the beauty and importance of a healthy ocean, as well as highlighting the pollution issues. I have been combining my art with activism since 2017 and I try to portray complex issues in a simple way to empower and inspire people to take action. I am excited to collaborate with StepChange to spread the word and support organizations that are making important efforts to restore ocean health.
~ STYNGVI
Shop Now
Let customers speak for us
Every StepChange Purchase Helps Fund Ocean Restoration
We're not just selling shirts and socks made with recycled bottles. We're actively working to create change in the health of our oceans. That's why we work with partner organizations like FORCE BLUE, Seaside Sustainability and Ocean Habitats to make a bigger splash.
Learn More about our Partners
Help Remove Plastic from Our Waste Streams
We're making waves of positive change with StepChange Clothing. Why should plastic bottles litter our ocean when they can be used in our apparel. Take the first step.
Be an agent of change