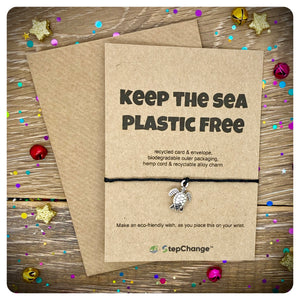 Attractive Turtle charm bracelet made and packaged with recycled, organic and recyclable materials.

Recycled card and envelop materials
Biodegradable outer packaging
Organic Hemp cord
Recyclable alloy charm
Made by a UK based artist for StepChange.
Beautiful Turtle Charm Bracelet
Loved the Turtle Charm Bracelet just wish it was not wrapped in plastic.
Charming Charm
I love the little turtle charm, and especially love the fact that it is helping to keep the see free from plastic.